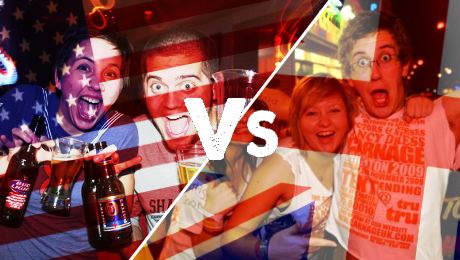 Which country has better and more options to financially  support it's students…
US or UK???
Scholarships do play an important role in helping students to support funding and providing financial help while studying abroad. On those lines British Government has taken important steps to help students for their funding in form of scholarships, bursaries to support students strongly during their studies in UK Universities. Large numbers of scholarships are offered to international students for undergraduate, post graduate and research courses which includes living cost and also tuition fees.
Work study options are not available in UK as in US. But still you can meet your ends in UK, i.e. you can pay your tuition fees as well as living cost even if you don't take up job during your studies.
Students can get the benefit of applying for various scholarships in advance to get the maximum benefits from that university.
But Yes!!! Students are also allowed to work upto 20 hours per week during term- time in duration of their studies and full time during vacations.
But permission has to be taken from your respective University before you take up employment during your course, but most educational institutions do give permission to students to work part time as it is important for students to understand the importance to earn while you learn.
Other Financial Assistance that you can opt for to study in UK are:
Self funded.
Loans- from nationalized banks or private sector banks. A guarantor may be required. Interest rates are low and repayment begins after graduation.
Employment – Current immigration regulations permit students to work part-time (20 hours a week). Student can apply for the work visa after his graduation to work full time if he gets a job of GBP 20,000 per annum.
Financial Support in US
 Though tuition fees and living cost is higher in US then in UK but because of the availability of good and various sources of financial aid is a major factor for international students to opt for higher education in the US.
 The United States government and all U.S. state governments help students by providing merit- and need-based student aid including grants, work-study options and loans.
1)      If you can prove your excellence in academics then University offers Scholarships, Grants or Stipends to its meritorious students to cover their daily expenses as well as tuition fees in some cases.
2)      Assistantships a type of financial assistance is provided to graduate students on a   part time basis as an academic employment by Universities on the basis of merit. Assistants are paid a stipend and/or receive tuition remission (free tuition) in  exchange for tasks they perform for a faculty member, the department, or the college.
Teaching assistantships provide aid in exchange for teaching activities, such as assisting a professor by conducting lab or study groups, preparing lectures and grading.
Research assistantships pay students to assist a professor with his or her research.
 Curricular Practical Training (CPT):
If you are a student in F1 visa, you can work after 9 months (one academic year i.e., Fall & Spring) after entering US. It is called Curricular Practical Training (CPT).
CPT is internship that is given to students after they have completed one full academic year after entering US. Through CPT students get credit for working as they have been employed to work for a potential employer. (Also called Co-op or Internship)
The duration students can work with a career services at you school is maximum for one year i.e. until you graduate after which you can apply for your OPT.
Optional Practical Training (OPT)
Based on the program curriculum you have chosen your DSO may authorize CPT during first semester.
If you are specialized in the following areas of your studies in US such as:
Software
Engineering
Accountancy
Teaching
Marketing
Then you may be hired by the company during your OPT period granting you the H1-B work visa.
The H1-B work visa is usually granted by employers to international students in the above mentioned specialty areas.
Education Loan from Banks.
Part Time Jobs ( On & Off Campus)
Students are also eligible to work for 20 hours a week to partially meet their expenses.
There are work study options available wherein the US University permits students to work full time even during regular classes. Classes are held in the evening or on week ends & the student works full time during the day. These options are particularly good for students with low budgets.
Using some of the above mentioned common sources of finance US education can turn out to almost be free.